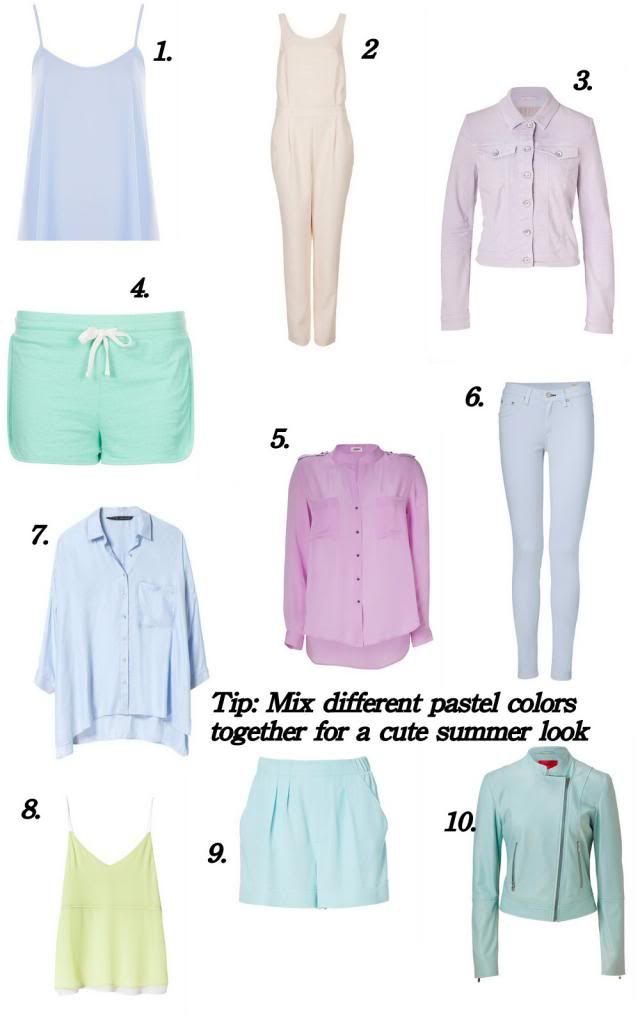 1. Topshop   2.  Topshop  3. Closed   4. Topshop  5. L'agence  6. Rag  & Bone  7. Zara  8. Zara  9. Zara 10. Hugo
Pasteller er altid en genganger på catwalken til SpringSummer showsne. Jeg er selv ret dårlig til at bruge farver og køber det sjældent, faktisk holder jeg mig for det meste til basis farverne fordi man ikke bliver trætte af dem på samme måde. Men jeg tror det er på tide jeg får lidt farve ind i min gaderobe og investere i lidt pasteller til sommer! Sammensætningen af forskellige pastel nyancer er så fin, men pasteller kan også bruges til basis farverne! eks. ville et hvert item jeg har valgt at fremhæve for oven gå godt i en hver gaderobe, det kan alt sammen sættes til basis jeans eller under en læder jakke mm.
Pastels are always on the catwalk for the SpringSummer shows. I myself am quite bad at using colors and rarley buy it,  I mostly stick to basic colors, because you do not get tired of them in the same way. But I think it's about time I get a little color into my wardrobe and invest in some pastels for summer! The composition of various pastel nuances are so nice, but pastels can also be used with basic colors! every item I have chosen to highlight in the top would go well in every wardrobe, it can all paired with basic jeans or under a leather jacket.